Upcoming Events
---
Visit our virtual booth to find out more about our products and solutions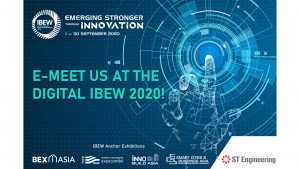 International Built Environment Week (IBEW) 2020
ST Engineering will be participating in this year's IBEW – BEX Asia, MCE Asia, SCB Asia and Innobuild Asia themed "Emerging Stronger Through Innovation".  The virtual exhibition aspires to push the boundaries of innovation to build business resilience and shape a smarter and more sustainable built environment. This year's edition will offer a whole new digital experience to showcase the best innovations in digitalisation, advanced construction, sustainability, and smart facilities management.
Discover how our AGIL Smart Lighting Solutions, AGIL Smart sensors & Microwave Modules, and AGIL Smart Wearable Solutions, and Smart Digital Building Solutions expand business capabilities that match your organisation's budget, sustainability targets, and operational maintenance objectives.
To schedule a meeting, email us at info@AGILLites.com
Date:  1 - 30 September 2020
Link to the virtual booth here.